[threecol_two_first]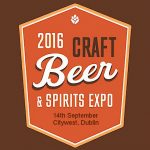 The output of the micro brewing and distilling industry is currently doubling every two years so it has the potential to become a major element in the Irish drinks industry, with huge benefits to the economy. The industry is showing a healthy growth in start- up activity. The key challenge in this respect is to ensure that the failure rate is kept low and that these start-ups can achieve full utilisation of their plant capacities. Bringing together experts, industry leaders and brewmasters, master distillers of all backgrounds, the event is designed to galvanize industry professionals. Attendees will be exposed to a marketplace of valuable resources, have access to cutting edge products and services from knowledgeable vendors, and be given a unique perspective on Irelands emerging craft beer & spirits sector. The programme is designed in consultation with a distinguished panel of industry experts aimed at all craft beers, whiskeys and spirits producers regardless of size.
REGISTER TODAY!

REGISTER TODAY!
[/threecol_two_first][threecol_one_last]
REGISTER
Error: Contact form not found.
[/threecol_one_last]